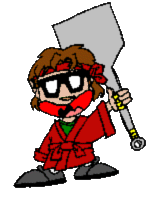 And now, a long, pointless time-wasting bit of nonsense!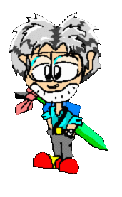 That's my favorite kind of nonsense...
OUR STORY...
As told by MooMoo-Chan


Yes, I remember it well. The HappyVale NutHouse. You may think that HappyVale is jest a generic name for those sort of things (HappyVale Nuthouse, HappyVale nudist colony, etc.) but the sad part is that it's a REAL city, and all the stuff people say about it IS TRUE. All because I got a little angry [there's a piece inexplicably missing from the story here -- really, it used to be in this file, and now its gone...] (and I never DID get those curly fries, I'll have to find that guy later...), and poor Xeta was there, they didn't believe his story, though I did, 'cuz I'm gullible as a really gullible thing. They conviscated my spatula, and Xeta's sword was mistaken for a young man's stolen toupee, so we had no way out. I tried banging my head against the padded walls of our cell, but only succeeded in denting the matress and loosening my brain. Xeta was sitting in the corner mumbling about pie when something caught my eye (and you know how much THAT can hurt...). Xeta's shiny head was reflecting right into my face. After some stumbling around and screaming "I'm blind! I'm blind!", I formulated a plan. It involved a tuna salad sandwich and a stunted wallaby, but I had neither, so I had to resort to plan B. Over the course of the next few days, I discreetly concealed silverware behind my thick glasses (my vision has NEVER been the same...) and used my glasses to reflect light into a powerful weilding flame to create my new hefty mon spatula! Then, Xeta's future nephew came in a time machine and taunted us, so we flogged him and stole his sword (all of Xeta's family tree carry swords, I think they use it as a sort of cleaning implement, I mean, they're all janitors...). I think his time machine is still sitting in the cell, we could find no use for it. Of, course, it never occured at the time to fight our way out with our weapons. I had to eat through several layers of yummy (yes, yummy!)wall matresses. I ate through the wrong wall, though, and 'big Ethel' in the cell next to us, booted us inta da next hemisphere. Our many years in Asia were spent eating dust and engrossing in Ranma 1/2. Finally, we were kicked from the buddhist camp for acts of unrighteous silliness, and moved back to the states, where I finally was able to enjoy my favorite meal (I kid you not, Chocolate soft serve with nacho cheese Doritos) again! Xeta rescued me from the Asylum soon afterwards (actually, I just swung my spatula around, while Xeta knighted all the chickens in the oven into a unified EVIL army, soon after realizing that they were decapitated, basted, and currently cooking into warm goodness with fresh stove top stuffing...stuffing, mmmm...), and we retreated into the bowels of a local funhouse at the HappyVale carnival (you'd better get used to hearing the words 'bowels' and 'funhouse' in the same sentence! And if you say swordfish, I'll LOSE IT!!!!). We are now on the run, with nothing but our PC, weapons, video games, animes, and all other pointless items on the back of our trusty Yak, Susan the Yak.
---
Back to Credits.